Cookie preferences
This website uses cookies, which are necessary for the technical operation of the website and are always set. Other cookies, which increase the comfort when using this website, are used for direct advertising or to facilitate interaction with other websites and social networks, are only set with your consent.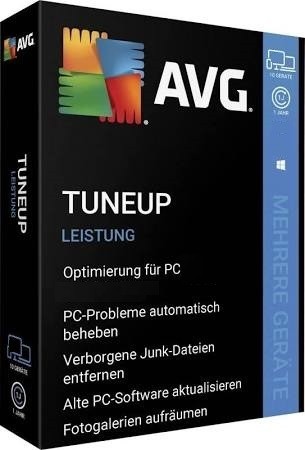 AVG TuneUp 2021 | Windows |
This product is currently not available.
UNSERE EMPFEHLUNG
Secure payment
Buy desired software easily and securely through SSL encryption in the store.
Lightning shipping
5-30 minutes e-mail delivery and instant download.
Help with the first installation
We offer free help via TeamViewer during the initial installation.
Free support
Via chat, email and phone.
Product information "AVG TuneUp 2021 | Windows |"
Secure more performance and buy AVG TuneUp 2021 now at a great price
Over time, users of PCs and notebooks often notice a loss of performance. The programs start slower and slower and also the system does not respond as well as it used to. In such a case, AVG TuneUp 2021 software promises fast and reliable help. By optimizing in the right places, you will get the job done in a few simple steps and speed up the entire system more than significantly. Of course, the features are comprehensive and especially the new version includes up-to-date tools that go far beyond the simple deletion of files. With us, you can get your license for AVG TuneUp 2021 at a very low price and start working right away thanks to the immediate delivery.
Use many tools for more performance on your home computer with AVG TuneUp 2021
The software AVG TuneUp 2021 brings a lot of tools and is an attractive choice when it comes to easy and fast optimization of your computer. After just a short installation, you will have all the features at your disposal that are supposed to provide more performance under current Windows operating systems. Thus, you can rely on the optimal compatibility to Windows 10 and Windows 11.
Basically, the AVG TuneUp 2021 program is based on the search for vulnerabilities on your own computer or notebook that slow down the system. This can be, for example, files on the hard drive that are no longer needed. But also numerous entries in the registry or unnecessary programs that even run in the background can slow down your own system significantly over time. AVG TuneUp 2021 immediately uncovers these and many other vulnerabilities and, of course, comes with the appropriate solutions for them directly. This way, you have the option to delete the files you no longer need from your hard drive with a flick of the wrist. Use the practical disk cleanup to significantly increase performance on the one hand and provide more free disk space on the other. You can also easily remove and delete the unnecessary entries in the Windows Registry with the help of AVG TuneUp 2021. Also, rely on an optimization of the autostart programs. This is the software that is started directly when the system is booted. The more programs you find in the folder, the worse the performance usually is. In such a case, the speed of the computer can be significantly increased by cleaning up the folder.
A particularly handy feature for everyday use of the computer is the so-called sleep mode, which comes with AVG TuneUp 2021 from the factory. This is because this function prevents programs that are basically not needed from tying up memory and CPU resources. The sleep mode starts at this point and automatically puts the individual programs to sleep, so that they can no longer slow down the system. If you need to work with the respective programs again, they are of course immediately available again.
Very simple options - use the intuitive operation for optimization with AVG TuneUp 2021
To significantly increase the performance on your own computer with AVG TuneUp 2021, you do not need to be an expert or extensively familiar with the technology. The software from the well-known manufacturer AVG is designed in such a way that it performs most of the work completely automatically. Thus, after installing the program once, you hardly need to take care of the actual work. Thus, the practical solution takes care of a registry cleaning completely automatically, and also a practical repair and maintenance of the system, if desired, AVG TuneUp 2021 will do it for you almost by itself. Incidentally, with the right settings, this action is performed automatically once a week, so you can always count on a fast and powerful computer.
New features for more security and a significantly improved response speed
However, with the new version of AVG TuneUp 2021, the manufacturer also introduces some innovative features. These not only ensure significantly better performance on the one hand, but also even more security on the home computer. For example, after installing AVG TuneUp 2021, you have the option to remove bloatware and so-called junk programs directly from the computer. In many cases, this is software that is no longer wanted and is often simply installed along with it. If you have not been careful with a program from the Internet, you will find numerous toolbars, programs and other software solutions on your computer that you do not actually need. In such a case, AVG TuneUp 2021 brings the right help. Rely on safe and easy removal of this unneeded software and work much faster, safer and more effectively. For this purpose, the handy Software Uninstaller, which is an integral part of AVG TuneUp 2021, also suits you. Remove all programs that are no longer needed, freeing up resources and disk space. Rely on the software's assessment, because here you'll get important information about which programs might still be important at a glance. Thus, thanks to AVG TuneUp 2021, you'll work effectively even if you're not very familiar with the installations and the programs.
Of course, the handy "Disk Cleaner" function cannot be missing from the AVG TuneUp 2021 program either. On the hard drives, which by the way are getting bigger and bigger, numerous files accumulate over the weeks and months, which in the end are of no relevance at all for the daily work. The Disk Cleaner therefore takes a close look at your disks and finds all the files that you no longer need. Whether it's old backups or the temporary system files, with just one click you can safely delete these files and thus free up more storage space. AVG TuneUp 2021 also brings more order and clarity to your browser. Temporary files or the remains of online activities can be easily removed with the Browser Cleaner. Of course, the program supports all current browser versions, such as Chrome, Firefox or Internet Explorer.
Many problems with the performance or stability of the system are associated with old drivers or outdated software. That is exactly why AVG TuneUp 2021 software brings exactly the right solution and help for these problems as well. A handy software updater is an integral part and will take care of the difficult task of searching for newer and better versions of the installed programs for you. Of course, AVG TuneUp 2021 knows the most popular and important programs particularly well and will search out the latest updates for you for Skype, Java or VLC, for example. A simple and direct installation of the new versions is of course no problem at all and is done within a short time with only little effort. So you definitely don't have to take care of this important task yourself anymore either. So far, AVG TuneUp 2021 supports optimization for more than 50 of the most popular programs and apps for Windows, although new variants are always added with the regular updates.
Buy cheap now and optimize immediately - AVG TuneUp 2021 is ready for you at BestSoftware
Start immediately with the optimization of your used hardware and buy the license for AVG TuneUp 2021 in our online store. BestSoftware will deliver you the desired key within a maximum of 30 minutes via email and also always convinces with the best service. So if you have any questions or requests regarding the offers, please feel free to contact us. We are available for you on the phone, via e-mail or even in a convenient live chat and inspire with a quick help. Even remote maintenance is possible, for example, in case of problems with the activation. In our online store, we also provide you with other software products, including those from AVG. Order for example at a particularly favorable price the offer of AVG Internet Security 2021 or AVG Ultimate 2021, i.e. the popular and common products of the well-known manufacturer. We look forward to your purchase at BestSoftware and are always there for you if needed.
System requirements - AVG TuneUp 2021 Windows

Processor

1 gigahertz (GHz) or faster, 32-bit (x86) or 64-bit (x64) processor

Operating systems

Windows 11, Windows 10, Windows 8/8.1 and Windows 7

RAM

At least 1 GB of RAM

Hard disk space

At least 1 GB of available disk space

Screen

At least 1024 * 768 pixels

For more detailed information please contact the manufacturer.
Important !
1 devices versions only valid for Windows systems
3 Devices, 5 Devices and 10 Devices Multi Device, valid for MacOS, Windows, Tablet and Mobile Devices

Related links to "AVG TuneUp 2021 | Windows |"
Buy software online at low prices in 3 simple steps: 01. Buy...
more
Buy software online at low prices
in 3 simple steps:
01. Buy

Secure shopping through SSL encryption.


02. Download

Download directly after purchase.


03. Install

Install and activate the software.

Related links to "AVG TuneUp 2021 | Windows |"
How do our prices come about? The goods offered by us are activation keys which...
more
How do our prices come about?

The goods offered by us are activation keys which were originally delivered by the respective owners to a first purchaser. This person paid the corresponding remuneration to the owner and thus received activatable product keys, the use of which is not subject to any time limit. We make use of our right and buy up a large number of non-activated keys from corresponding distributors.

This procedure enables us to offer our products at comparatively lower prices.

Furthermore, the virtual inventory management also contributes to this, which is responsible for the elimination of delivery and storage fees, as well as the elimination of high personnel fees.
Accordingly, one should keep in mind that our earnings are far from being equal to those of the original owners. Rather, our focus is on satisfying our customers with the best possible price-performance ratio in order to gain their trust and to be able to enjoy a steadily growing clientele in the future. Thousands of customers have already been convinced by our quality - become one of them!
Related links to "AVG TuneUp 2021 | Windows |"