Buy Ashampoo Burning Studio 21 online and use a professional burning program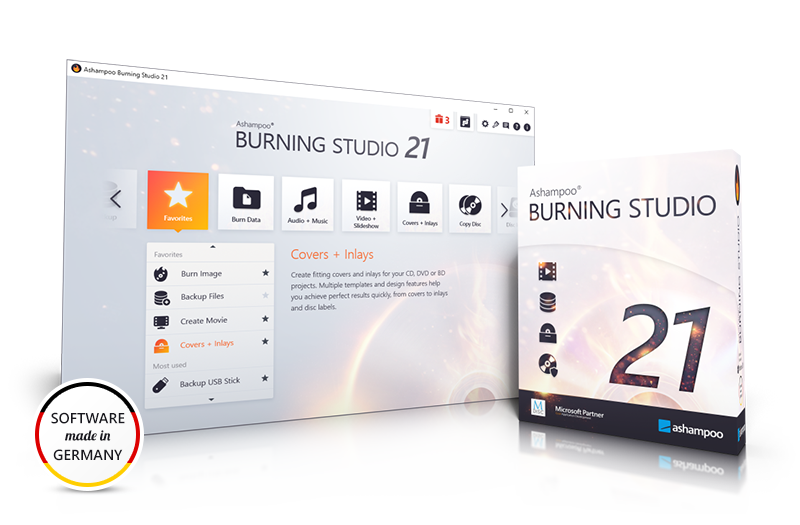 Ashampoo Burning Studio 21 is the revolutionary burning software for Windows that offers countless more features and uses. The software can burn data conveniently and safely and offers powerful multimedia features. For example, you can create slideshows or movies, generate video discs with animated menus and edit media in just a few steps. If you buy Ashampoo Burning Studio 21 cheaply through our store, you'll be able to copy CDs, DVDs and Blu-ray discs effortlessly. You can also automatically rip music CDs, create backups in no time and print matching covers. The software allows you to save data compressed and password-protected on any media.
For comprehensive video and slide creation: buy Ashampoo Burning Studio 21 cheaply
The software allows you to cut movies and add impressive opening and closing credits to them. Provided that the video was recorded the wrong way around, it can be rotated with a simple click of a button. With ready-made themes, your own graphics or subtitles for explanation, you can create a completely individual project. The program lets you create impressive slideshows with background music that sets the scene for the images in an atmospheric and appealing way. Compared to previous versions, you can expect a brand new image optimization, which gives the pictures the final touch. Thus, if you buy a license for Burning Studio 21 online via our store, you will get a professional burning software that lets you copy CDs, DVDs as well as Blu-ray discs in just a few steps and also includes many other tools.
Buy

Ashampoo

Burning Studio 21 online at a low price and create disc covers
With the software you can comfortably create covers and sleeves. Extensive editing options are available to you for a free design. If necessary, however, you can also use a convenient import function that reads the CD and automatically creates a finished cover with track list. The program can easily handle disc images such as ISO, CUE/BIN or ASHDISC. The image files can be copied, burned and viewed in just a few steps. If you purchase the license key for the software online via our store, you can even make your own images in a time-saving manner.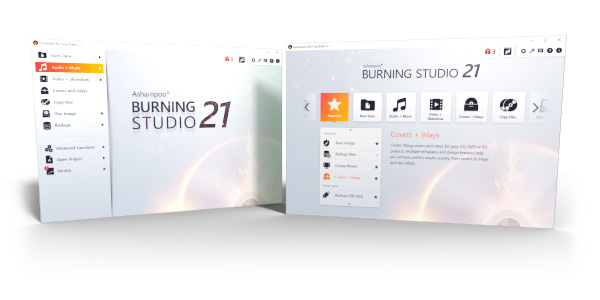 Ashampoo Burning Studio 21: Process countless formats comfortably
The strengths of the burning software also include the creation and burning of video DVDs and video Blu-ray discs. The most common video formats such as MPEG4, H.264 and AAC and sound formats such as MP3, WMA and OGG are supported. The feature-rich software lets you rip music CDs in the best quality and save them in the desired format. The artist and title are recognized automatically and at lightning speed. If you purchase the product key for the burning software at a low price via our store, you will have custom-fit profiles available for more than 1,800 car radios, allowing you to experience songs and audio books on the road in the best quality. In addition, you can use backup plans to securely and easily protect important data from being lost.