No results were found for the filter!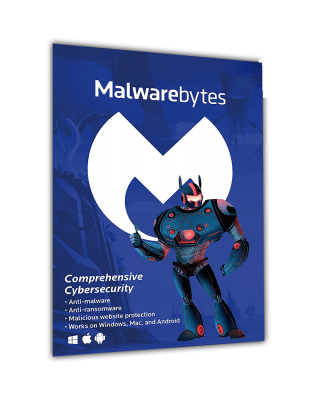 Malwarebytes Premium 2023 | Windows
Devices:
1-3 devices
Duration:
1 year
Country zone(s):
Worldwide
Language:
Multilingual
Delivery time:
5 - 30 Minuten
Already sold 184 times
See details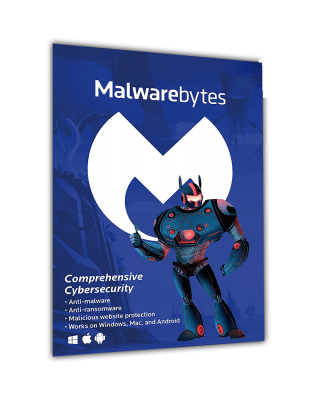 Malwarebytes Premium 2023 | MAC
Devices:
1-3 devices
Duration:
1 year
Country zone(s):
Worldwide
Language:
Multilingual
Delivery time:
5 - 30 Minuten
Already sold 20 times
See details
Products from Malwarebytes
Cheap Malwarebytes software is ready for you at BestSoftware
Threats in everyday life have recently increased significantly, even in the field of modern technology. Whether it's malware that gets onto your computer via email, spying on personal data or even unwanted programs that nestle in your system, criminals are more creative today than ever before. Accordingly, it is important that you rely on the appropriate software solutions for efficient protection. The manufacturer Malwarebytes offers the right options for exactly this area and provides tried and tested antivirus programs. For this purpose, take a look at our favorable licenses and options for purchasing, for example, choose the preferred variant and then benefit from a safe use of the home computer.
Benefit from the high competence of the manufacturer
Malwarebytes is one of the best-known and largest manufacturers of security software. It is a relatively young company, officially founded only in January 2008, but its roots go back a bit, as the founder started programming as early as 2004. The trigger for the desire to program an antivirus software was a computer infected with malware at that time. The first version of the anti-malware software, which is still well-known and popular today, was then released as early as 2006, and to this day the product is in great demand among many users. The current figures for the Malwarebyte company are correspondingly impressive, as can be seen from the turnover. Almost 130 million US dollars are on the list here and more than 700 employees are working to bring the corresponding products for the applications up to date, to look after the customers and to develop new programs.
Over the years, the manufacturer Malwarebytes not only grew very significantly, but was able to announce corresponding acquisitions. For example, back in 2011, the manufacturer bought the company "HPPhosts", which blacklists websites and ad servers. In addition, the manufacturer announced a move to a large and new office building in 2015 and thus moved its headquarters from San Jose to Santa Clara. In addition to this headquarters, however, there are of course many other offices in different countries around the world, for example in Cork (Ireland), Tallinn (Estonia) or in Singapore. Thus, the company is active all over the world and is constantly growing until today.
We are looking forward to your purchase and we will be glad to help you
We will be happy to help you with your purchase of the affordable software from Malwarebytes and support you to the best of our ability, should you have any questions or problems in this regard. With various support options, we are your reliable partner. Not only can you call us or send us an e-mail, but you can also use our free live chat with our experts. With the help of the practical remote maintenance and the competent assistance, you will succeed in the installation with ease. By the way, you will receive the key by e-mail immediately after the purchase, so you will have the corresponding licenses in your mailbox after no more than 30 minutes. Together with the low prices, there are virtually no wishes left unfulfilled. You can buy the popular and practical security software from Malwarebytes at very low prices. Whether Malwarebytes Premium 2021 for Windows or for professional users in small businesses, you will get exactly the right licenses from us. So take a look around at your leisure and benefit from our attractive advantages when it comes to purchasing.
More security, easy operation - software products presented
The software products from Malwarebytes are ultimately about security when using modern technology. The aforementioned comprehensive threats, which are unfortunately part of everyday life, especially when using the Internet, pose a threat to personal data and can even become a financial risk for users. That is why the company provides practical security software that you can use in different environments.
For example, the Malwarebytes Premium 2021 program is one of the latest variants and impresses with many options, easy operation and very good performance. Even on an older computer, using the program is not a problem at all, this one is hardly noticeable even in the background. The Malwarebytes Premium 2021 software relies on a new and special engine to detect threats as quickly and efficiently as possible when using the computer. According to the manufacturer, the so-called real-time protection helps to detect even threats that were previously unknown. This ensures a very high level of security on all end devices used and brings artificial intelligence and machine learning to your everyday life. Malwarebytes Premium 2021 also offers you comprehensive protection against other threats, this applies to online scammers, for example. If you try to access an infected website or a malicious link, the program raises an alarm directly and thus prevents potential dangers. Malwarebytes Premium 2021 also stands by you in case of pishing attempts and prevents you from submitting your sensitive and personal data to the scammers. At the end of the day, the software also convinces with a free and integrated scanner that takes a close look at the system. For example, Malwarebytes Premium 2021 finds unwanted programs on your computer and can then safely remove them in just a few steps.
The software from Malwarebytes is primarily suitable for private users, but also finds optimal conditions for use in professional environments. However, especially for private users, the manufacturer pays attention to a very simple and efficient operation. In this case, they rely on an intuitive interface that helps you find all the necessary tools in a few simple steps. For example, you can use the features to adjust the scans, determine the protection layers or select one of a total of three scan modes. Together with the already mentioned very good performance, the software products from Malwarebytes leave almost nothing to be desired.
Depending on the requirements, the Malwarebytes range also includes many other products. This applies, for example, to the software solutions for companies. Use Malwarebytes Endpoints Protection for servers or Malwarebytes Incident Report to ensure more security in everyday life. For private users, the security solutions for different end devices are available and with Malwarebytes Privacy VPN you can surf the Internet safely.