Cookie preferences
This website uses cookies, which are necessary for the technical operation of the website and are always set. Other cookies, which increase the comfort when using this website, are used for direct advertising or to facilitate interaction with other websites and social networks, are only set with your consent.
Ashampoo UnInstaller 10 - Windows
£16.46 *
£36.71 *
(55.16% Saved)
Prices incl. VAT plus shipping costs
INSTANT DOWNLOAD + PRODUCT KEY
Order number:

IDE-10897

Language:

Multilingual

Runtime:

Permanently valid

Delivery time:

5 - 30 Minuten
Secure payment
Buy desired software easily and securely through SSL encryption in the store.
Lightning shipping
5-30 minutes e-mail delivery and instant download.
Help with the first installation
We offer free help via TeamViewer during the initial installation.
Free support
Via chat, email and phone.
Product information "Ashampoo UnInstaller 10 - Windows"
Uninstalls unwanted programs thoroughly and without compromise | Ashampoo UnInstaller 10


With Ashampoo® UnInstaller 10 you can safely install, test and uninstall programs without leaving any residues. At the same time, you retain full control over what is allowed to remain on your computer! The program comprehensively monitors every installation so that it can be removed conveniently and without leaving any residue. Even programs without logging are completely eliminated by the four-fold uninstallation including deep cleaning. UnInstaller 10 completely sweeps unwanted software, browser extensions and toolbars from your hard drive with a single mouse click! And with the new Impact feature, you can even see which program is particularly stressing your system - lightning fast and clearly. And the advanced snapshot method shows them what has changed everything on your computer, whether files or registry!

View the effects of individual programs on the system

New Edge browser (Chromium) fully supported

Make locked files available and delete them with Unlocker

Cleaner modules up to date

Improved, extremely stable program driver

Deep cleaning with even more files found

Database with uninstall profiles of especially stubborn programs

New, especially thorough uninstallation algorithm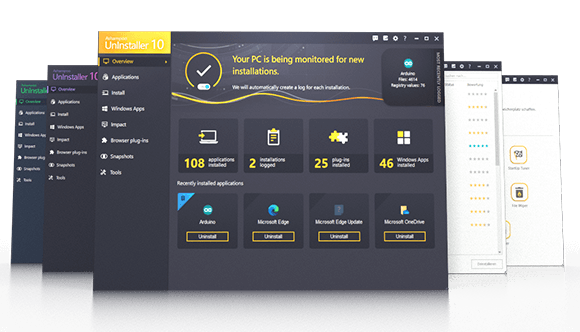 What are the effects of an installed program?
You have probably already asked yourself the question how much an installed program burdens your system. To answer this question conclusively for the first time, this module takes a very close look at your system. How much CPU power and memory does a piece of software consume, how much does it delay the system startup and which processes are involved? It goes far beyond the Windows Task Manager and the Resource Monitor and uses a newly developed algorithm to calculate an individual value for each piece of software. Does this software burden the system, is it perhaps worth uninstalling? Always current values and a meaningful bar display keep you always up to date!
The new Unlocker module - when it gets down to the nitty gritty
Some files are blocked by the system, although you urgently want to remove them. Windows blocks any access because, for example, an uninstallation was not completed properly, and the object remains locked. The Unlocker solves this problem! This newly developed module gives you access and forces the system to unlock this file. Easily unhook internal Windows locks and delete the last remaining data of any installation, no matter how tricky! Unlocker shows you the open items, has a powerful search and handy filter functions. You alone decide what should be unlocked. Regain complete control over your Windows!
Microsoft Edge Chromium fully supported
Microsoft Edge browser based on Chromium has managed to convince many users and has already overtaken Firefox in its distribution worldwide. Ashampoo® Uninstaller 10 offers a wealth of features for this new browser as well. It ranges from uninstalling unwanted browser extensions (plug-ins) to removing unnecessary surfing traces to uninstalling the software itself. You can even use the old and new Edge versions in parallel on your computer and manage both separately!
Detail improvements with great effect
The predecessor Ashampoo® Uninstaller 9 was very well received, which motivated us to do even more! The new uninstall algorithm works noticeably more thoroughly and thus finds more unnecessary ballast! Our goal is perfect 100% uninstallation, which is why deep cleaning, installation monitoring and uninstallation by database have been further improved. The program driver has been optimized in cooperation with support and runs even more robust and stable than ever! And of course the popular Cleaner modules like the Internet Cleaner and Drive Cleaner are up to date!
Uninstall programs without leaving any residues
Windows only deletes what the installed programs themselves release in their deletion routines - and that is too little! Either through lack of care or quite deliberately, numerous entries in the registry, incorrect assignments or file remnants remain on your system. These remnants often cause errors, clutter the hard drive, bloat the registry and slow down the entire PC. Through sophisticated search and cleaning mechanisms, the program finds far more than Windows could on its own. Ashampoo® UnInstaller 10 removes unwanted software down to the last byte!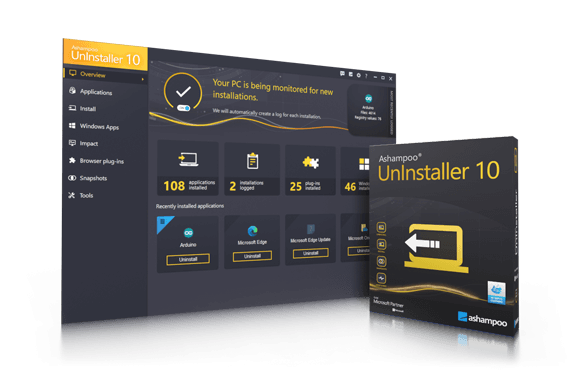 Uninstall software like a pro!
Even as a newbie, you will have no problem getting started with Ashampoo® UnInstaller 10. With intelligently designed interface, all functions are just a mouse click away, even technically complex operations remain self-explanatory. Uninstall any program conveniently and without any leftovers. Let automatic detect and log installations. Gain interesting insights into what is happening on your computer and conveniently remove what does not belong on your computer. One UnInstaller for all!
Merciless against unwanted programs
Ashampoo® UnInstaller 10 removes programs that have become superfluous, do not meet the requirements - but of course also unwanted software that has been covertly foisted on you! Especially with installers from download sites, programs often come "piggyback" that are simply unwanted software, some of which can be assigned to spyware and malware. Ashampoo® UnInstaller 10 detects these programs, even if they are hidden in complicated, nested installers, and sweeps them off the hard drive just as you wish!
Compare snapshots - what's the point?
Imagine that Ashampoo® UnInstaller 10 is a chief logistician for your PC. With each snapshot, the program creates a complete inventory list of your system. This list includes all data and also registry settings of Windows. If files are added (e.g. by an installation) you can create another inventory list. Now, when comparing, all differences are found, every new or deleted file, every changed registry entry. In UnInstaller 10 you will now find a brand new snapshot wizard that makes creation and comparison effortless! This makes sophisticated technology completely easy to use!
Four uncompromising deletion methods for complete uninstallation
Ashampoo® UnInstaller 10 uses no less than four techniques to ensure that not a single unwanted byte remains on your system. The most comprehensive is the log that UnInstaller 10 creates when installing each program. Here, all files and registry values that an installation causes are recorded. In addition, the program uses the uninstall routine of the software that is to be deleted. If there is a profile for the software in the program's own database, this is also processed. Finally, the deep clean searches for any last remnants that may still be on the hard drive! With the new version, it even follows up after a restart to see if any very last remains can be found!
Remove software with deep cleaning
Ashampoo® UnInstaller 10 seamlessly logs the installation of every program, guaranteeing uninstallation without any residue. Even programs that are otherwise hidden from you are safely logged. But even for programs that were not logged, an intelligent deletion algorithm ensures effective uninstallation. With deep cleaning, unnecessary entries and files of the deleted software that would otherwise remain on your system are removed from the hard disk. This way, even programs that came onto your system before UnInstaller can be completely eliminated!
Your guardian that monitors all installations
Ashampoo® UnInstaller 10's guardian always keeps an eye on your system, using hardly any measurable resources. Even if you remove a program via the normal Windows uninstallation, this is registered and then automatically searched for further file remnants on the system. Often even the beginning and the end of an installation are detected automatically, so that you don't have to intervene at all! With the new version 10 we have made the service even tougher. Whatever your system is doing, the guardian has everything in view!
Destruction of sensitive data
Many files that are deleted during an uninstallation contain sensitive data. It is also your user profiles, account data or passwords that are to be deleted. However, Windows alone can only do this insufficiently, third parties could recover them! To protect your privacy in the best possible way, these files are immediately shredded when they are deleted, so that they can no longer be viewed, even with special software. Best of all, Ashampoo® UnInstaller 10 works at the level of military security standards!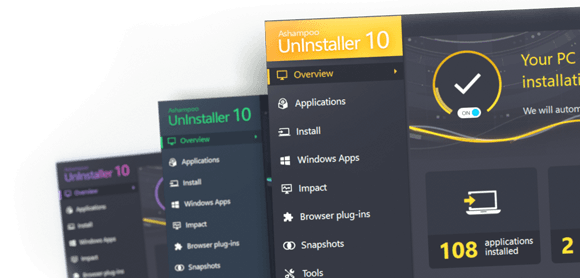 Uninstall cleanly with profiles even without a protocol
Until now it was difficult to uninstall without a logged installation. Where were files and registry keys distributed on the system during installation? Ashampoo® UnInstaller 10 has installation profiles of many popular or particularly stubborn applications and can remove them without leaving any residue, even if the installation was not logged. Together with the thorough deep cleaning, these programs also disappear completely!
Surf the Internet faster and safer
Unsafe, unwanted and malicious plug-ins run in millions of browsers. Whether disguised as an annoying toolbar or a seemingly helpful plug-in, Ashampoo® UnInstaller 10 finds them all! Track down extensions that are often not even displayed by your browsers. Neatly listed, you can find all extensions, see their ratings and uninstall them conveniently. Find out what really helps you, what spies and what slows you down, and delete unwanted extensions with one click!
Uninstall Windows Apps
It's your computer, why don't you regain full control over it? With every installation, Microsoft distributes various apps and sets them as default. However, many of these apps are not your first choice at all, occupy useless disk space or start unintentionally. From now on, you can uninstall these unwanted apps as well. Even apps that Windows doesn't even display can be easily removed from your computer!
Uninstall programs, surf safer and maintain your PC - all with one program!
With Ashampoo® UnInstaller 10 you have perfect control over all installations of your system. But who optimizes the performance of your computer or prevents intruders from the Internet? Together with Ashampoo® WinOptimizer 18 and Anti-Virus you have the optimal trio at the start! Let your system speed up, get rid of data garbage and surf the Internet without worries. Use this powerful trio for a lean, fast and safe computer!
System requirements

Computer

Any computer that supports the operating systems listed above. Systems with ARM processors are not supported.

Operating systems

Windows® 10, Windows® 8, Windows® 7

RAM

at least 2GB RAM

Other

Internet connection is required to activate the program. The program license is checked at regular intervals.
Administration rights on the system are required to use the program.




Related links to "Ashampoo UnInstaller 10 - Windows"
Buy software online at low prices in 3 simple steps: 01. Buy...
more
Buy software online at low prices
in 3 simple steps:
01. Buy

Secure shopping through SSL encryption.


02. Download

Download directly after purchase.


03. Install

Install and activate the software.

Related links to "Ashampoo UnInstaller 10 - Windows"
How do our prices come about? The goods offered by us are activation keys which...
more
How do our prices come about?

The goods offered by us are activation keys which were originally delivered by the respective owners to a first purchaser. This person paid the corresponding remuneration to the owner and thus received activatable product keys, the use of which is not subject to any time limit. We make use of our right and buy up a large number of non-activated keys from corresponding distributors.

This procedure enables us to offer our products at comparatively lower prices.

Furthermore, the virtual inventory management also contributes to this, which is responsible for the elimination of delivery and storage fees, as well as the elimination of high personnel fees.
Accordingly, one should keep in mind that our earnings are far from being equal to those of the original owners. Rather, our focus is on satisfying our customers with the best possible price-performance ratio in order to gain their trust and to be able to enjoy a steadily growing clientele in the future. Thousands of customers have already been convinced by our quality - become one of them!
Related links to "Ashampoo UnInstaller 10 - Windows"