Cookie preferences
This website uses cookies, which are necessary for the technical operation of the website and are always set. Other cookies, which increase the comfort when using this website, are used for direct advertising or to facilitate interaction with other websites and social networks, are only set with your consent.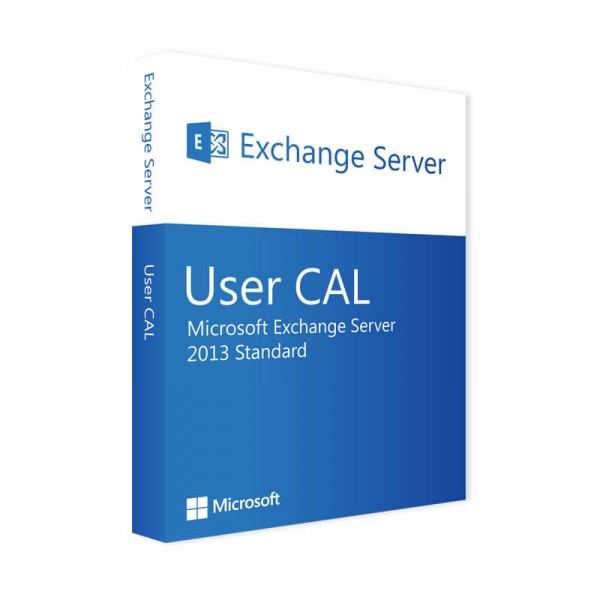 Microsoft Exchange Server 2013 User 1 CAL
£18.31 *
£28.22 *
(35.12% Saved)
Prices incl. VAT plus shipping costs
These options are not available!
Order number:

BS-10555

Language:

Multilingual

Runtime:

Unlimited

Country zone(s):

Worldwide

Delivery time:

5 - 30 Minuten
Secure payment
Buy desired software easily and securely through SSL encryption in the store.
Lightning shipping
5-30 minutes e-mail delivery and instant download.
Help with the first installation
We offer free help via TeamViewer during the initial installation.
Free support
Via chat, email and phone.
Product information "Microsoft Exchange Server 2013 User"
Ihre günstige Exchange Server 2013 User CAL steht bei uns zur Bestellung bereit
Wer im professionellen Umfeld häufig mit Kundendaten, mit Terminen und mit Nachrichten hantieren muss, trifft mit dem Exchange Server 2013 eine sehr gute Wahl und entscheidet sich für eine leistungsstarke Software mit vielen praktischen Features. Unter anderem dürfen Sie sich auf eine hohe Alltagstauglichkeit und eine einfache Bedienung verlassen, zudem sind die Möglichkeiten mit dem Server in den vergangenen Jahren mehr als deutlich angestiegen. Sie finden die Exchange Server 2013 User CAL besonders günstig bei uns, diese benötigen Sie für die anstehende Nutzung im Alltag.
Natürlich unterstützt Sie der Exchange Server 2013 beim effektiven Arbeiten im Alltag
Der erste Microsoft Exchange Server kam schon im Jahr 1996 auf den Markt, doch mit dieser Version hat die beliebte Software aus dem Jahr 2013 kaum noch etwas gemeinsam. Mit den Jahren sind immer wieder neue Funktionen hinzugekommen, die für eine effektive Arbeit im Alltag sorgen können. Neben dem einfachen Versenden und Empfangen von E-Mails können Sie Ihre wichtigen Termine immer im Blick behalten, Stammdaten Ihrer Kunden und Mitarbeiter verwalten oder ganz einfache Erinnerungen für Projekte und Fristen im Blick behalten.
Doch bevor die Arbeit beginnen kann, sollten Sie sich für die richtige Version des Exchange Servers entscheiden. Dieser wird auch weiterhin von Microsoft als Standard- oder als Enterprise-Variante angeboten. Während die Standardlösung auf maximal fünf Postfächer und Datenbanken beschränkt ist, sind bei der Enterprise-Ausführung bis zu 100 Datenbanken möglich. Der Exchange Server richtet sich also in diesem Fall vor allem an große Unternehmen mit einem entsprechenden Bedarf.
Haben Sie sich für die richtige Variante entschieden, kann die Arbeit beginnen. Nutzen Sie leistungsstarke Suchfunktionen, um immer schnell den gewünschten Inhalt oder die passende Nachricht zu finden. Beantworten Sie eingehende Nachrichten auch direkt von unterwegs aus, indem Sie die mobilen Lösungen des Servers in Anspruch nehmen. Dies gelingt Ihnen über das Smartphone oder das Tablet gleichermaßen gut. Haben Sie viele Projekte im Unternehmen, die aktuell bearbeitet werden müssen und möchten Sie alle Fristen im Blick behalten, gelingt Ihnen dies mit dem Exchange Server ebenfalls besonders einfach. Sie können Ihre Termine mit wenigen Handgriffen eintragen, diese im Blick behalten und Erinnerungen über verschiedene Wege erhalten. Weisen Sie die Aufgaben zudem Ihren Mitarbeitern zu und bleiben Sie durch den automatischen Austausch immer auf dem neuesten Stand.
Rund um die Arbeit mit Informationen und Dateien sowie die Sicherheit aller Daten bietet Ihnen der Exchange Server 2013 ebenfalls hervorragende Bedingungen. So ist diese Variante das erste Modell, welches mit einem praktischen und integrierten Viren-Schutz zu Ihnen kommt. Gefährliche Nachrichten oder Links lassen sich somit schnell erkennen und durch den Filter beseitigen. Mit entsprechenden Datenbanken und Feldern tragen Sie alle relevanten Fakten rund um Ihre Kunden oder Ihre Mitarbeiter ein, auch somit sind Sie immer auf der absolut sicheren Seite. Der Exchange Server 2013 aus dem Hause Microsoft ist also hervorragend für die professionelle Arbeit geeignet.
Greifen Sie zu und sichern Sie sich die passende Exchange Server 2013 User CAL zum kleinen Preis
Schon seit einigen Jahren setzt der Hersteller Microsoft auf ein ganz besonderes Konzept, um die Lizenzierung für die Server-Produkte durchzuführen. Dieses kommt auch beim Exchange Server zum Einsatz. So müssen Sie sich zunächst um die Server-Lizenz an sich bemühen, die Sie auf Wunsch natürlich besonders günstig bei uns bestellen dürfen. Mit dieser steht der Installation der Software in einer Server-Umgebung nichts mehr im Wege. Allerdings reicht die Server-Lizenz für die endgültige Nutzung und den Zugriff auf alle Funktionen noch längst nicht aus. Sie benötigen als Ergänzung hierzu noch eine passende Zugriffslizenz, die Microsoft unter der Bezeichnung Client Access License bzw. unter der Abkürzung CAL verkauft.
Sie können eine Exchange Server 2013 User CAL besonders günstig bei uns im BestSoftware Online-Shop einkaufen. Wir überzeugen Sie als Kunden mit attraktiven Konditionen, aber auch die Exchange Server 2013 User CAL an sich bietet natürlich einige Vorteile für die Arbeit im Alltag. So können Sie mit dieser Lizenz einen festen Nutzer lizenzieren, dieser kann dann unbegrenzt auf den Server zugreifen und mit diesem arbeiten oder Änderungen vornehmen. Wichtig ist aber der Hinweis, dass jeder weitere Nutzer eine neue Exchange Server 2013 User CAL benötigt. Allerdings sind Ihre Mitarbeiter hierfür vollkommen frei, wenn es um die Wahl der Plattform oder des Endgeräts geht. Wer also immer wieder die Geräte wechselt oder von verschiedenen Systemen aus auch mobil arbeiten möchte, kann dies mit einer Exchange Server 2013 User CAL ganz einfach erledigen.
Sie können sich aber auch für die Alternative entscheiden, hierbei handelt es sich um die Exchange Server 2013 Device CAL. Diese ist für ein einzelnes Gerät in Ihrem Unternehmen geeignet, von diesem können dann allerdings beliebig viele Anwender mit dem Exchange Server arbeiten. Wenn die Arbeit am Server also generell eher von wenigen Geräten aus erfolgt, sind Sie mit dieser Alternative zur Exchange Server 2013 User CAL deutlich besser und günstiger beraten.
Im Rahmen der täglichen Nutzung profitieren Sie von vielen attraktiven Neuerungen
Auch mit dem Exchange Server aus dem Jahr 2013 hat der Hersteller Microsoft wieder einige wichtige Änderungen und Neuerungen eingeführt, die für Sie als Anwender mit Sicherheit von großer Bedeutung sein dürften. So profitieren Sie beispielsweise von einer neuen Outlook-Anbindung an den Server. Hier kommt kein MAPI-Protokoll mehr zum Einsatz, sondern eine alternative Technik. Diese verspricht noch mehr Sicherheit und eine alltagstaugliche Nutzung des Servers.
Auch die Zusammenarbeit mit weiteren Mitarbeitern oder Kollegen rückt der Hersteller Microsoft mit dem Exchange Server 2013 noch einmal ganz klar in den Mittelpunkt. Dies gelingt beispielsweise durch den beliebten Dienst SharePoint, der aufgrund zahlreicher attraktiver Vorteile und Nachteile in vielen Umgebungen im Einsatz ist und auf ganzer Linie überzeugen kann. Die Web App 2013 ist ebenfalls neu mit dabei und bekam einige Änderungen, unter anderem auch mit einer Optimierung für Touch-Geräte. Dank dieser Anpassung lassen sich mobile Geräte, beispielsweise das Tablet, noch effektiver und besser im Alltag verwenden. Die professionelle Arbeit steht mit dem Exchange Server 2013 also weiterhin im Mittelpunkt und ein Upgrade auf diese Version von einem älteren System aus lohnt sich in vielen Fällen für Sie als Kunden. Die passenden Lizenzen für den Umstieg erhalten Sie bei uns, beispielsweise die Exchange Server 2013 User CAL.
Bei uns kaufen Sie die Exchange Server 2013 User CAL immer deutlich günstiger
Vergleichen Sie gerne die Preise unserer Angebote und der Varianten direkt vom Hersteller, mit der Exchange Server 2013 User CAL und dem Einkauf bei uns im BestSoftware Online-Shop sparen Sie als Verbraucher bares Geld. Sie müssen also nicht unbedingt viel Geld ausgeben, sondern können bei uns bestellen und dann ganz entspannt zurücklehnen. Wir führen dann eine besonders schnelle und zuverlässige Lieferung der gewünschten Lizenzen für Ihr Produkt durch. Diese funktioniert bei uns ganz einfach per E-Mail und die Wartezeit liegt bei maximal 30 Minuten. Sollten Sie mit den gelieferten Produkten oder beispielsweise der anstehenden Aktivierung einmal Probleme haben, helfen wir Ihnen mit dem besten Kundendienst gerne weiter. Wir freuen uns, wenn wir Ihnen unsere Unterstützung durch erfahrene Experten im Live-Chat anbieten können. Alternativ können Sie sich an unsere Hotline wenden oder wir unterstützen Sie mit einer schnellen Antwort auf Ihre E-Mail. Auch für Ihr Anliegen sollte so mit Sicherheit der passende Ansprechpartner schnell zu finden sein. Zusätzlich haben wir weitere Produkte für Sie im Angebot, beispielsweise die praktische Exchange Server 2013 Device CAL oder auch die neuere Exchange Server 2019 User CAL. Alle genannten Vorteile gelten natürlich auch für diese Produkte bei uns im BestSoftware Online-Shop.
Related links to "Microsoft Exchange Server 2013 User"
Buy software online at low prices in 3 simple steps: 01. Buy...
more
Buy software online at low prices
in 3 simple steps:
01. Buy

Secure shopping through SSL encryption.


02. Download

Download directly after purchase.


03. Install

Install and activate the software.

Related links to "Microsoft Exchange Server 2013 User"
How do our prices come about? The goods offered by us are activation keys which...
more
How do our prices come about?

The goods offered by us are activation keys which were originally delivered by the respective owners to a first purchaser. This person paid the corresponding remuneration to the owner and thus received activatable product keys, the use of which is not subject to any time limit. We make use of our right and buy up a large number of non-activated keys from corresponding distributors.

This procedure enables us to offer our products at comparatively lower prices.

Furthermore, the virtual inventory management also contributes to this, which is responsible for the elimination of delivery and storage fees, as well as the elimination of high personnel fees.
Accordingly, one should keep in mind that our earnings are far from being equal to those of the original owners. Rather, our focus is on satisfying our customers with the best possible price-performance ratio in order to gain their trust and to be able to enjoy a steadily growing clientele in the future. Thousands of customers have already been convinced by our quality - become one of them!
Related links to "Microsoft Exchange Server 2013 User"