Cookie preferences
This website uses cookies, which are necessary for the technical operation of the website and are always set. Other cookies, which increase the comfort when using this website, are used for direct advertising or to facilitate interaction with other websites and social networks, are only set with your consent.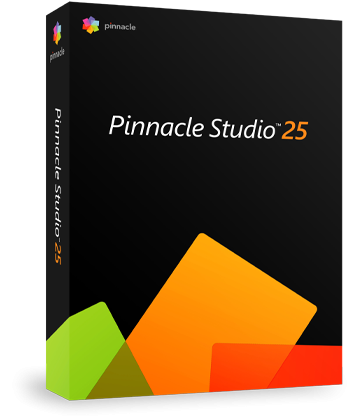 Pinnacle Studio 25 Standard | Windows
This product is currently not available.
UNSERE EMPFEHLUNG
Secure payment
Buy desired software easily and securely through SSL encryption in the store.
Lightning shipping
5-30 minutes e-mail delivery and instant download.
Help with the first installation
We offer free help via TeamViewer during the initial installation.
Free support
Via chat, email and phone.
Product information "Pinnacle Studio 25 Standard | Windows"
Aneignen von Fertigkeiten auf professionellem Niveau | Pinnacle Studio 25 Standard
Bearbeiten Sie erweiterte HD- 4K- und 360°-Videos mit einer unbegrenzten Anzahl von Spuren. Videomaskierung, 360°-Videobearbeitung, Motion-Tracking, Multi-Kamera-Bearbeitung oder Split-Screen-Video-Professionelle Funktionen heben das Filmemachen auf die nächste Stufe.
Kreative Transformationen
Sie könne Problemlos nahtlose Übergänge, Color-grading Funktionen und Premium Effekten In Ihren erstellten filmen intigrieren um die einzigartigkeit Ihrer Arbeit herauszustellen.
Höchste Präzision
Normal war Gestern , mit Pinnacle Studio können Sie jeden Parameter fein einstellen. Egal Ob Position, Größe, Übergänge, Überlagerung, Geschwindigkeit Effekte und vieles Mehr.
Gestalten Sie den Arbeitsablauf so wie Sie Ihn haben möchten, ob Tastenkürzel oder zusammenfügen von Clips und Gruppen. Als dies ist ist mit Pinnacle Studio möglich.
Funktionen
Bildschirmaufnahme

Stop-Motion-Animation

Multikamera-Bearbeitung

Überblendungsmodi

Videostabilisierung

Keyframe-Steuerelemente

Bewegungsverfolgung

Titelbearbeitung

Audio-Ducking

DVD-Authoring
Was ist in Pinnacle Studio 25 neu ?
Überblendungsmodi
Mit den Überblendungsmodi können Sie wählen, wie ein Clip mit einem anderen überblendet wird: Überblendungsmodi ermöglichen die Erstellung von Überlagerungseffekten, das Überblenden maskierter Bereiche oder die Erzeugung von Lichtlecks und anderen Farb- und Belichtungseffekten. Jeder Überblendungsmodus verwendet eine andere Formel, um die Farb- und Helligkeitswerte in einem ausgewählten Clips mit den Werten in dem darunterliegenden Clip zu kombinieren. Die Überblendungsmodi eröffnen Ihnen viele neue Möglichkeiten, Ihren Filmen einen künstlerischen Touch zu verleihen.
Klangfunktionen
Mit einem Benutzerfefinierten Rauschprofil ganz leicht geräusche unterdrücken

Anpassen der höheren töne

Mehrkanal-Tonmischung
8K-Import
Um von einer höheren und besseren Qualität profitieren zu können wodurch auch die Tonqualität und die Farbanpassung profitieren , lassen Sich 8K-Videos ganz leicht importieren.
Keyframe-Grupen
Um Änderungen effizient zu vervielfältigen, können Sie Gruppen von Keyframes attributübergreifend kopieren und einfügen.
Titel-Editor
Der Text-Editor wurde nochmal neu überholt, jetzt können Sie Schrftgröße und Farbe bis auf den Buchstaben genau steuern.

Spezialeffekte auf einen anderen Level
Stilisieren Sie Ihre Filme.
Mit Spezialeffekten können Sie Ihrem Film Atmosphäre und Charakter verleihen – geben Sie ihm das Aussehen eines Films aus alten Zeiten oder eines Indie-Films, lassen Sie an Regentagen die Sonne scheinen und vieles mehr.
Spielen Sie mit verschiedenen Filtern, um Ihr Publikum zu überraschen.
Möchten Sie einzelnen Sequenzen Ihres Films das Aussehen eines alten Gemäldes oder einer Bleistiftskizze geben? Mit den Filtern von Pinnacle benötigt es für solche Transformationen nur wenige Klicks
Bedienoberfläche und Leistung
Durch die Optimierung der Bedienoberfläche und Leistung könnne Sie sich vollständig auf Ihren Bearbeitungsprozess konzentrieren und müssen sich nicht mit einzelnen ablenkungen behindern lassen.
Mehr erleichterung durch den genuss vonn "Extra" Optionen
Videostabilisierung
Stabilisieren Sie verwackelte Aufnahmen! Mit dem Stabilisierungstool in Pinnacle Studio können Sie Aufnahmen stabilisieren, die Sie beispielsweise beim Radfahren oder bei einer Skiabfahrt gemacht haben.
Stop-Motion-Animation
Die Stop-Motion-Animation ist eine beliebte Filmtechnik. Nutzen Sie diese tolle Funktion, um Personen und Objekte in Ihren Filmproduktionen zu animieren.
Objektivkorrekturen
Mit den integrierten Objektivkorrektur-Werkzeugen können Sie Linsenverzerrungen (wie Fischaugeneffekt bei Weitwinkelaufnahmen) korrigieren.
Greenscreen
Mit diesem unglaublichen Effekt können Sie in die Ferne reisen, ohne wirklich wegzugehen: mit der Greenscreen-Postproduktion fügen Sie mühelos zwei Videoströme zusammen, um virtuell zu Ihrer Wunschdestination zu reisen.
Selektive Farbe
Experimentieren Sie mit der Funktion "Selektive Farbe", um eine einzige Farbe hervorzuheben und die Aufmerksamkeit auf einen wichtigen Aspekt der Szene zu lenken.
Der Inhalt nochmal kurz zusammengefasst
Hauptanwendungen:
Videobearbeitungssoftware

Video- und Bildschirmaufnahme

Erstellen von Diashows

Audio-Editor

DVD-Erstellung

Videokonverte




Kreative Inhalte:
Hunderte von Filtern und Effekten

Bibliothek mit animierten Überlagerungen, Grafiken, kreativen Schriften und Titeln

Thematische Vorlagen und Videomontagen

Lizenzgebührenfreie Musik und Soundeffekte

Systemanforderungen
Betriebssystem: Windows 10, 64-Bit
Prozessor: Intel Core i3 oder AMD A4 mit 3,0 GHz oder höher
Für die Unterstützung von AVCHD- und Intel Quick Sync Video ist Intel Core i5 oder i7 mit 1,06 GHz oder höher erforderlich
Intel Core i7 der 4. Generation oder neuer bzw. AMD Athlon A10 oder höher für UHD, Multikamera-Bearbeitungen oder 360°-Videos
RAM: 4 GB oder höher; für UHD, Multikamera-Bearbeitungen oder 360°-Videos werden mindestens 8 GB empfohlen
Grafikkarte: Mindestauflösung von 1024 x 768; mindestens 256 MB VGA VRAM; für die Hardware-Dekodierungsbeschleunigung werden 512 MB oder höher empfohlen
Es wird ein DirectX-Grafikgerät empfohlen:
NVIDIA GeForce 700-Serie / Quadro 600 (Fermi-basiert) oder neuer (CUDA-Fähigkeit erforderlich für CUDA-Unterstützung)
ATI Radeon HD 5XXX-Serie oder höher
Intel HD Graphics von Ivy Bridge oder höher
3D Titler erfordert DirectX 11
Soundkarte: Windows-kompatible Soundkarte
Festplattenspeicher: 10 GB Festplattenspeicher für die Vollinstallation
Importformate
Videos: AVCHD, DV, HDV, AVI, MPEG-1/-2/-4, Flash, 3GP (MPEG-4, H.263), WMV, unverschlüsselte DVD-Titel (inkl. DVD-VR/+VR), MOV (DV, MPEG-4, H.264), HEVC**(H.265), XAVC, MXF, DVCPRO HD, XAVC S, GoPro LRV, Cineform
Audioformate: MP3, MPA, M4A, WAV, AMR, AC3, AAC, Vorbis, WMA
Bilder: BMP, GIF, JPG, JPS, J2K, PCX, PNG, PSD, TGA, TIF, WMF
Exportformate
Discs: DVD, AVCHD, Blu-ray ($)
Video: DV, HDV, AVI, WMV, MPEG-1/-2/-4, Flash, 3GP, HEVC** (H.265, H.264), XAVC S, MOV, M2TS, FLV, 3GP, GIF, Cineform
Bilder: BMP, JPEG, TIF, TGA
Audio: AC3, MP2, MP3, MP4, WAV


Änderungen der Produktspezifikationen ohne Vorankündigung und ohne Verpflichtung hierzu bleiben vorbehalten.
Für die 8K-Video-Unterstützung wie eine Intel-CPU der 6. Generation (oder neuer), eine CPU der NIVIDA-10-Serie (oder neuer) oder eine CPU der AMD-4000-Serie (oder neuer) empfohlen.
Die Unterstützung von HEVC (H.265) erfordert entsprechende PC-Hardware oder Grafikkarte. Zudem muss Microsoft HEVC Video Extension installiert sein.
Upgrade-Bestimmung
Besitzer von Avid Studio oder Pinnacle Studio 9 und neuer sind berechtigt, das Produkt zum Upgrade-Preis zu erwerben. Folgende Versionen berechtigen zu einem Upgrade: Studio 9, 10, 11, 12, 14, 15, 16, 17, 18, 19, 20, 21, 22, 23 und 24.
Related links to "Pinnacle Studio 25 Standard | Windows"
Buy software online at low prices in 3 simple steps: 01. Buy...
more
Buy software online at low prices
in 3 simple steps:
01. Buy

Secure shopping through SSL encryption.


02. Download

Download directly after purchase.


03. Install

Install and activate the software.

Related links to "Pinnacle Studio 25 Standard | Windows"
How do our prices come about? The goods offered by us are activation keys which...
more
How do our prices come about?

The goods offered by us are activation keys which were originally delivered by the respective owners to a first purchaser. This person paid the corresponding remuneration to the owner and thus received activatable product keys, the use of which is not subject to any time limit. We make use of our right and buy up a large number of non-activated keys from corresponding distributors.

This procedure enables us to offer our products at comparatively lower prices.

Furthermore, the virtual inventory management also contributes to this, which is responsible for the elimination of delivery and storage fees, as well as the elimination of high personnel fees.
Accordingly, one should keep in mind that our earnings are far from being equal to those of the original owners. Rather, our focus is on satisfying our customers with the best possible price-performance ratio in order to gain their trust and to be able to enjoy a steadily growing clientele in the future. Thousands of customers have already been convinced by our quality - become one of them!
Related links to "Pinnacle Studio 25 Standard | Windows"